---
NOTICE!
A new search engine has been placed next to the Archives button at the top. Use it as it brings more hits on keywords searched.
---

Entry Form for the competition...
---

Sent By: Al Noman Shamim, Details...
---

Rayed Mamun is a first year student of University of New South Wales. He is the son of Mahmuda Runu. We encourage any young people with talent in writing to submit their works to us!
---

A grand re-union of all ex_cadets living in Australia were held at Sydney Olympic Park on Sunday with lots of fun and Retrospective of the ever bright memories of days and nights spent at cadet Colleges. This was the first time when ex_cadets from all 10 Cadet Colleges were re-united and celebrated the day to Re-bond, Reflect and Rejuvenate the golden days of Cadet College.
Sent By: Nawshad Sha
Photos...
Details Report
---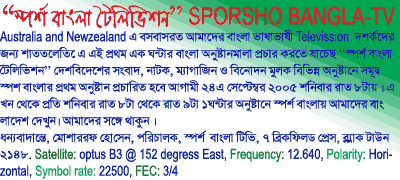 ---
Citizen Natok- A Successful Production By Sydney Nattyam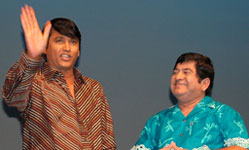 On 18th of September 2005, Sydney Natyam presented the Citizen natok at Science Theatre, UNSW. The show started with speeches by the chief guests, including H.E. Asraf-Ud-Doulla, Peter Garrett, Federal member, Dr. Abdul Wahab, Ruhul Ahmed Ruhul and some organisers. This was followed by a cultural performance by local artists including a group and some solo songs and some dances. After the dinner intermission, the comedic natok Citizen, written by Bellal Hossain Dhali, started. The natok was directed by Azizul Hakim and Shaheen Sha-newaz. Famous Bangladeshi actors as well as some local actors nicely presented the natok. Photos...
---
ANNUAL IFTAR PROGRAM
SATURDAY, 22ND OCTOBER 2005, DO'A - 6:00 PMIFTAR- 6:16 PM
ROOTY HILL MOSQUE PLEASE JOIN THE PROGRAM WITH YOUR ENTIRE FAMILY 
FOR DETAILS: MARUF KHAN 98352192, ABDUL HAQ 96284568
ORGANIZED BY: BANGLADESHI FAMILIES
---

Dilruba Shahana lives in Melbourne. Archives...
---

---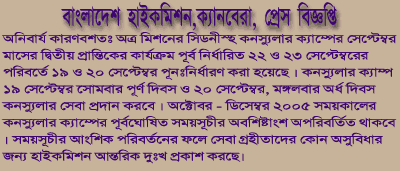 Sent By: Mohammed Fahimul Islam, Second Secretary, BHC, Canberra.
---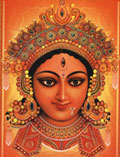 Durga Puja 2005
Organised By: Bangladesh Puja Association Australia
Date: 08th October 2005, Saturday
Venue: Daceyville Police Citizen Youth Club, 26A Bunnerong Road, Daceyville (Near Kensington)
Contact: Mr Samir Ghosh Tel: (02) 9556 2147,
Mr Upendra Dey Tel: (02) 8338 0476
---

Contact: Bablu, 0423720930
---
Bangladesh Forum for Community Engagement
Sent By: Dr. Abdul Haq Details...
---

Mohammed A Razzaque Ph.D. is currently teaching at UNSW.
E-mail: ma.razzaque@unsw.edu.au Archives...
---

Dr. Golam Kibria is a Senior Environmental Scientist with the Australia's largest Rural Water Authority and based in Victoria.
E-mail: golamk@g-mwater.com.au Archives..
---
CSIRO Media Release... CSIRO Plant Publication... Nature Publication...
E-mail: abed@kanihati.com Archives...
---
New Radio Program 'PoroshMoni'

Frequency: 100.7 FM

Time: Every Tuesday from 8pm to 9pm

Contents: Art, literature, cultural values, science, technology and music.

Focus: Humanism, Presenter: Zia Ahmed, 0401039614
---

Dr. Qaiyum Parvez is an academic of the University of Western Sydney.
E-mail: Q.Parvez@uws.edu.au Archive...
---

---

---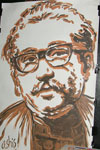 On 27th of August, 2005, Bangabandhu Parishad Australia observed 'Jatio Shok Dibosh 2005' at Police Citizen Youth Club, Kingsford. The chief guest, Mr. Abdul Goffar Chowdhury and Parvin Sultana came from London to attend to this occasion. There were many people who came to this event. The program started with a quiz competition about Bangladesh history and muktijudho. The chief guest delivered his inspiring and informative speech on Bangladesh, Muktijudho and Bangladesh's current state, followed by Parvin Sultana and a few local speakers. After dinner, a famous natok, 'Polashi Theke Dhanmondi', written by Mr. Abdul Goffar Chowdhury, was screened. Photos...
---

---

Mohammed A Razzaque Ph.D. is currently teaching at UNSW.
---

---

---

Abdur Rahman Sikder is a Phd. student at Sydney University:
E-mail: sikder@cs.usyd.edu
---
Open Competition for Kids
Bangla Proshar Committee is going to organize an open competition of
writing, recitation of poems/rhymes and debate.
Venue: Matraville Public School, Bunnerong Road, Matraville, NSW.
Date: Nov 13, 2005 Time:12.30 pm. Details...
Sent By: Rafiqul Islam
---
INTERNATIONAL CRICKET, SUMMER 2005-2006, AUSTRALIA
Sent by: Helal Morshedi Details...
---