---

---
---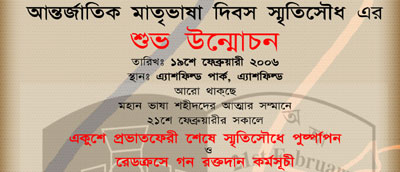 Program Shedule for 19th feb 2006
---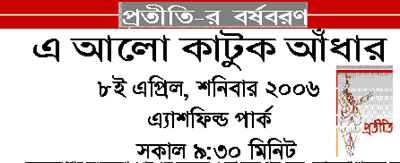 ---

---

Dilruba Shahana lives in Melbourne. Archives...
---

---
Ekushe Boi Mela-2006

,

Ashfield Park
PROGRAM,
19 February 2006
---
Celebration of Swarasati Puja in Sydney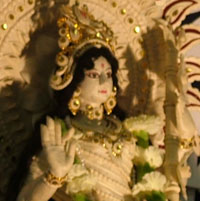 On the 4th of Feb 2006, Bangladesh Society for Puja and Culture (BSPC) at DunDas Community Center and Bangladesh Puja Association Australia(BPAA) at Marys Parish Hall Rydalmere celebrated their Saraswati Puja. The Bangladeshi Hindu community observes the festival on a grand scale in each year in Sydney.
Photos (BSPC)... Photos(BPAA)...
---

---

A new book 'Aapon Ainay Ekattor' by Shafiq Ullah, a prominent freedom fighter and sub-sector commander, has been published recently (December 2005) by Agamee Prakashani, Dhaka. It captures many known and unknown events of our freedom struggle. The book painstakingly, and with courage and honesty, chronicles the historical perspectives and narrates numerous events of the liberation war leading to sovereign Bangladesh. It is an auto-biographical and eyewitness account of a dedicated freedom fighter, a memoir based on his observations, insights with untold stories on how the war was fought and won, and rare photos and illustrations. See more….
---

---

Poem 1... Poem 2... Archives...
---

Dr. Qaiyum Parvez is an academic of the University of Western Sydney. Archives... PDF... Non PDF...
---

Sent By: Masud Chaudhury
---

Sent By: Zia Ahmed. Details...
---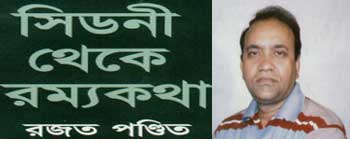 The above book has just been written by Mr. Rajat Pandit and published by Ira Prokashni. He is permanently living in Sydney. The book contains 17 short stories, which are enjoyable to read. Mr. Rajat continues to write more books in near future. This book is now available in different Bangladesh shops in Sydney and also will be available on the 19th Feb 2006, at Ekushe Boi-mela
---

Sent By: Abdul Jalil Deatails...
---

Dr. Golam Kibria is a Senior Environmental Scientist with the Australia's largest Rural Water Authority and based in Victoria
---
Bangladeshi student ( Zahid Reza Khan) died of a car accident at Marrickville last night(Feb 1, 2006). Innalilla..........He was studying at UNSW and living at Hillsdale and sadly he was supposed to go to Bdeshi this Saturday. Zahid's friends are trying to send the dead body to Bangladesh soon once the post-mortem is done. Zahid was an ex-cadet from Mirzapur Cadet College (MCC), who passed HSC in year 2000. Pls do pray for the departed soul. Find below the news about the accident at the www.news.com.au Sent By: Nawshad Sha
---

Sent By: Helal Morshedi
---

Sent By: Mohammed Fahimul Islam, 2nd Secretary, Bangladesh High Commission, Canberra
---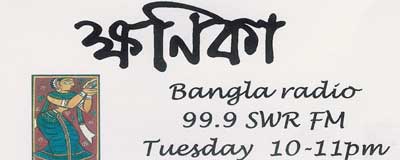 Sent By: Zia Ahmed
---
---

Dr. Qaiyum Parvez is an academic of the University of Western Sydney.
---
Bangladesh High Commission, Canberra, Handed Cheque to Ekushe Academy for International Mother Language Monument.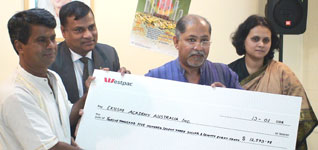 On Sunday, the 15th January 2006, the Bangladesh High Commission, Canberra, held a press conference to give the donations to Ekushe Academy Australia. Some people attended the press conference both from Sydney and Canberra. The honourable High Commissioner H.E. Ashraf-Ud-Doula gave the check of AU$12,573.78 to Mr. Nirmal Paul (current President) & Dr. Abdul Wahab (current treasurer). This money was granted by the Prime Minister of Bangladesh, Begum Khaleda Zia. All Ekushe Academy executive members and general members are working hard with the community to build this significant monument. The monument will be unveiled on the 19th February 2006, at Ashfield Park during the Ekushe Academy mela. Photos... Press release...
---

Sent By: Mohammed Fahimul Islam, 2nd Secretary, Bangladesh High Commission, Canberra
---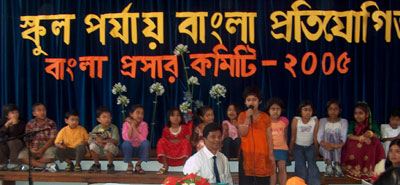 ---