---
'Nijere Harae Khuji' presented By Oikotan

Oikotan organised a musical program, 'Nijere Harae Khuji', at Burwood Girls High School in which they presented popular songs from old Bengali cinemas. The program began with a short speech by the leader of the group, Mr. Ismail Hasan Badol, and Shuvo. Ten songs were sung in the first half while eleven songs were sung in the second half with narration in between each song. Two dances were presented as well. Many people came to the program and enjoyed remembering their old time favourite songs. This program was dedicated to Late Mr. Khan Ata who was one of the pioneers of Bangla cinema. Photos...
---

---

aposh-kori-na... aubhishap... Archives...
---

Mohammed A Razzaque Ph.D. is currently teaching at UNSW. Archives...
---
Bangabandhu Parishad of Australia Meets With Media Representatives & Ekushe discussion by Sonar Bangla Newspaper

On 26th of February 2006, Bangabandhu Parishad of Australia Inc. invited media representatives for a friendly exchange of views and ideas for the new venue "Homebush Olympic Stadium" of 'BOISHAKI-MELA 2006', which will be held in April 29, 2006. Due to the heavy crowed old venue, "Burwood Girls High School" is no longer a high-quality spot to hold this extremely popular mela. The organisers, Dr Abdur Razzak (president) and Mr. Sheik Shamim (Vice president) asked the audience to come forward with new thoughts and suggestions to make the mela more colorful and successful events among the Bangladesh community.

In the 2nd part of the program, there was a discussion about "Shahid Dibosh", courtesy of Sonar Bangla Newspaper. Many people took part in the discussion and gave thoughtful speeches and pay homage to the martyrs those who sacrificed their lives for Bangla language. The program ended with a short singing session. photos...
---

Sunday, 12th March 2006
Venue: 1 Osmond Court, Hassallgrove, Time: 6:00 pm
All HSC 2005 graduates & 2006 Selective School entrants are invited to attend the program with their parents & other family members.
---

Dilruba Shahana lives in Melbourne. Archives...
---

---

---
Cricket Masala Festival

An exciting addition to the cricket calendar has been born today with the launch of the inaugural Cricket Masala Festival to be held on April 9, 2006 at Bankstown Ovals 1 & 2 as part of the annual Harmony day celebrations. The Commonwealth Bank has agreed to be the major sponsor of the festival.

Bangladesh, Aus, Srilanka and India will take

When : Sunday April 9, 2006

,Time : 8.30am – 6.30 pm

Tickets : $5 for Adults, $3 for Concession, Children and Seniors (Family of 4 for $15) with part proceeds going to the World Vision Kashmir Earthquake fund. Detail...
---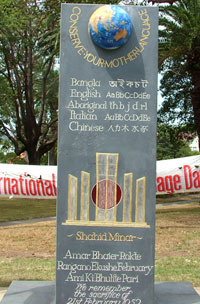 Ekushe Boi Mela-2006 and International Mother Language Monument Unveil, Ashfiled
On the 19th of February, 2006, Ekushe Academy arranged their annual book fair at Ashfield Park. The significance of this event was to unveil the International Mother Language Day Monument. This was a very special occasion for the Bangladeshi community. The chief guest, Bangladesh High Commissioner H.E. Ashraf-Ud-Doula, unveiled the monument. The Special guest, Monument Designer, Dr. David Niven (Retired General Manager, Ashfield city council) could not attend to the ceremoney. There were many people who came to the program. During the day there were many programs and activities such as performances from musical groups, dances, poetry recitations and an art competition. Photos...
---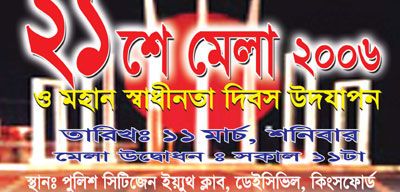 Sent By: PS Chunnu Details..
---

---

---

---

Mohammed A Razzaque Ph.D. is currently teaching at UNSW. Archives... Non Pdf...
---
---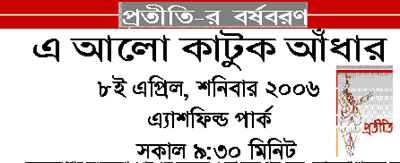 ---

---

Dilruba Shahana lives in Melbourne. Archives...
---

---
Ekushe Boi Mela-2006

,

Ashfield Park
PROGRAM,
19 February 2006
---
Celebration of Swarasati Puja in Sydney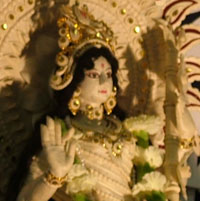 On the 4th of Feb 2006, Bangladesh Society for Puja and Culture (BSPC) at DunDas Community Center and Bangladesh Puja Association Australia(BPAA) at Marys Parish Hall Rydalmere celebrated their Saraswati Puja. The Bangladeshi Hindu community observes the festival on a grand scale in each year in Sydney.
Photos (BSPC)... Photos(BPAA)...
---

---

A new book 'Aapon Ainay Ekattor' by Shafiq Ullah, a prominent freedom fighter and sub-sector commander, has been published recently (December 2005) by Agamee Prakashani, Dhaka. It captures many known and unknown events of our freedom struggle. The book painstakingly, and with courage and honesty, chronicles the historical perspectives and narrates numerous events of the liberation war leading to sovereign Bangladesh. It is an auto-biographical and eyewitness account of a dedicated freedom fighter, a memoir based on his observations, insights with untold stories on how the war was fought and won, and rare photos and illustrations. See more….
---

---

Poem 1... Poem 2... Archives...
---

Dr. Qaiyum Parvez is an academic of the University of Western Sydney. Archives... PDF... Non PDF...
---

Sent By: Masud Chaudhury
---