Beedesh Bangla TVS(Ch-31)
Sunday 4:30PM Tuesday7:30AM
---
Banglar Mukh TVS(Ch-31)
Saturday 2:00PM, Tuesday 4:30PM, Thursday 8:30AM
---

Sunday 2:30-4 pm, 100.9 FM.
---

Saturday 1-3:00pm, 89.7FM.
---
PoroshMoni
Tuesday 8-9pm, 100.7 FM.
---

Thursday 12-2:00pm FM 100.9
---
Sunday 2-3pm, 99.9 FM.
---

Sunday 12-2:00pm, 98.5 FM.
---
SBS Radio Bangla Program
Monday 4:00pm, 1107AM/97.7FM.
---
Sunday 4-6:00pm, 89.7FM.
---
Broadcasts weekly.
---
Broadcasts weekly
---

---
---

---
Story of a Freedom fighter
---

---

Date: 18 Jun 2006 Sunday, 6PM Venue: Glenfiled Community Centre
---
Ms Fiona Chowdhury (Non Bengali) looking for some decent books on Bangladeshi culture, history, economics, etc. detail...
---

Date: July 30, 2006 Friday, 7:30 Venue: Quakers Hill Community Centre
---
AusBan Media presents MANUSH and CHER Cycle Natak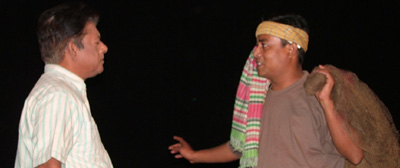 Bangla Theatre screened the nataks 'Manush' and 'Cher Cycle' at the James Meehan Auditorium, Macquarie Fields Public School, on the 4th of June 2006. Popular actors such as Mamoonur Rashid, Tushar Khan, Tomalika Karmakar, Tushar Khan, Golam Mostofa, Chanchal Chaudhury, Rubili Chaudhury, Shoinik as well as some other artists, took part in the two stage dramas. Their second stage show will be held on the 17th of June 2006, on 6:00PM at Ashfield Town Hall on Liverpool Street. This group is currently shooting a fifty-two part serial drama at Sydney and they invited many local people to take part in the shooting on Sunday, 11 June 2006, at a hidden location. Photos...
---

Qaiyum Parvez is an academic of the University of Western Sydney Archives...
---

---
Khanika Bangla Radio Special Program
It is our great pleasure to announce that Dr. MM Akash, an economist, critical thinker and a professor of Dhaka University, is going to be on air at 10pm on Khanika on next TUESDAY, 13 June 2006 and shall be broadcast live from 99.9 SWR FM. Please give us a buzz on either 0400-505-122 (Optus) or 0401-039-614 (Optus) for your questions / comments / critique / compliments or for participation in the discussion. Khanika Team Dr MM Akash's personal profile
---

---

Bristi Chokkhushul Archives...
---

---

---

---
---
Lakemba Bangla School Inc. AGM Completed

Dr. Abdul Wahab (President), M. Gasul Alam (Vice President), Dr. Karar Toslim (Secretary), Executive Members: Farooq Hannan, Masood Chowdhury, M. Shah Alam, Abdus Salam, A. Kalam Khan, MA Wohab Miah, Dr. Zahidul Islam, Salah Ibna Rosul, Jamil Hossain, Sikder B Rahman
---

Sent By: Tushar Roy
---

Dr. Golam Kibria is a Senior Environmental Scientist with the Australia's largest Rural Water Authority and based in Victoria
---

Match Schedule... World chart TV guide...
---
Youth Ambassadors for Development
The Australian Youth Ambassadors for Development (AYAD) program places skilled young Australian volunteers, aged 18-30, on short-term assignments in developing countries throughout Asia and the Pacific. Details... Sent By: Kamrul Ahsan Khan
---

Photos... Personal website for Monoj...
---

---

---

---
Australian Leadership Awards (ALA) is a new award under which the Australian Government offers scholarships and fellowships for current and future leaders from the Asia-Pacific Region. Sent By: Kamrul Ahsan Khan
---

Ekush Amar Ohongkar Video on line
Director and Producer: John Martin, Voice: Moushumi Martin ,
Article

View video Dial-up... View video Broadband...
---

---
Good Morning Bangladesh 2006, raised $6313.90

Good Morning Bangladesh was organised by the families of the Bangladeshi Community on May 7, 2006 at Village Green, Blacktown , the amount of money raised being $4047.90. Another one was held at Glenfield on May 14, 2006, the amount of money raised there being $2266.00. This is a unique morning breakfast program, held annually, for raising funds for the Cancer Council NSW. Many families donated different items of food for this program. Dr. Abdul Haq expressed his view that more money can be raised in the future if a few more venues can be selected within Sydney. Amount of money raised in the past years: Year 2006-$6313.90, Year 2005-$3200.00, Year 2004-$2190.00, Year 2003-$1335.00, Year 2002-$1257.60 and Year 2001-$900.00. Blacktown Photos... Glenfield Photos....
---

---