---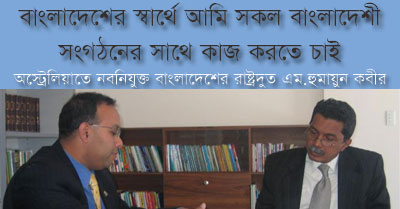 Sent By: Kaiser Ahmed Reports...
---

Date: 12 Aug 2006, Time: 6:30PM Venue: Strathfield Town Hall
---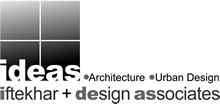 Iftekhar Abdullah graduated from BUET (Architect). He has worked as an Architect & Urban Designer in Sydney, Canberra and overseas more than fifteen years. He is involved in designing numerous prestige projects and received a number of awards for his design excellence. Presently he is the Principal of Iftekhar + Design Associates (ideas) details...
---

---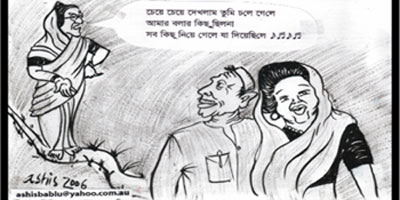 For larger view, please click on the above cartoon
---

Sent By: Ziaul Hoque Bablu
---

Sent By: Helal Morshedi
---

Sent By: Shams Rahman
---

Sent By: Abdur Rahim Mollah
---

News Source: Dr. Mohammad A Razzaque
---

Sent By: Mohammed Fahimul Islam, 2nd Secretary, Bangladesh High Commission
---

---

Mr. Saleh Ibne Rosul is a well-known radio announcer of Bangladesh Radio Sydney (FM100.7, Thursday 12:00PM). He is also well known as the presenter of various cultural functions in Sydney. He has just recently acted in a drama "Sabash Peto Pachu" organized by the Bengali association of NSW and got praised by the audience. Mr. Rosul expressed that he started acting drama at the age of 5 but didn't get opportunity to do it in Sydney. He expects to do more stage drama in the near future.
---

Magnificent Taylor leads Zimbabwe to victory, Sent By: Nawshad Shah
---

---
Details...PDF Details...Non PDF. Competion Entry Form
---

Sent By: Mohammed Fahimul Islam,2nd Secretary, Bangladesh High Commission
---

---

---

---

---

---

CSIRO Publication... Archives... See some Photos... Arsenic Map of Bangladesh
---
'Ekshonge' Dinner Raised $13,000.00

A fund-raising dinner was organized by the Rotary Club of the Central Blue Mountains to support the 'safe custody' for the more disadvantaged children in Bangladesh . The dinner party was held in a scenic and exotic location at the Skyway Brasserie in the Blue Mountains . Tickets were sold out and $13,000.00 dollars were raised. Natasha and Adrian had already spent few years on this project in Bangladesh (details are in the report). This was a unique cultural evening with authentic Bangladeshi food, cloths, music and everything Bangladeshi. The people behind this event were Shirley, Natasha, Arif Chowdhury and many more. The organisers were very happy for the successful evening. Photos... Project details...
---

---

Dr. Golam Kibria is a Senior Environmental Scientist with the Australia's largest Rural Water Authority based in Victoria Archives...
---
It's good to see that Hridoy (BUET student) who was diagnosed with Blood cancer last year has recovered well after the first round of treatment for 9 months at Singapore Hospital. It is worth mention that more than 1 crore Taka was raised from all over the world including $17,000 from Australia within very short time. Please see an article by Anisul Haq on Hridoy's latest condition (scroll down to see the article) Article... -Nawshad Shah & Nasimus Sakalaine
---

---

---

Report & Photos... Sent By: Ziaul Hoque Bablu
---

---

---
Abed Chaudhury is a scientist & writer who currently lives in Canberra
---
Bangladesh Economy forecasts 6.5-6.8pc GDP growth in FY07

Sent By: Mayen Uddin
---
---
SEMINAR ON WOMEN'S HEALTH, Organized by Bangladeshi Doctors' Forum in Victoria and followed by cultural Program. Date: 9 Sep 2006, Time: 16:00-19:00 Venue: Mulgrave Community Centre, VIC. Details...
---