---

Bangladesh Welfare Society Campbelltown handed over a cheque of $1000.00 AUD to the President of The Haemophilia Society of Bangladesh Md. Nurul Islam. Details...
---
Jamilur Reza Choudhury (JRC) in Sydney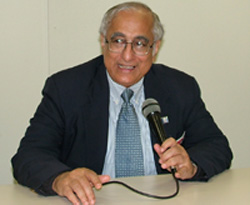 Professor Jamilur Reza Chowdhury (JRC) is a Vice Chancellor of BRAC University, former adviser of the Caretaker Government, ex-BUET professor at Civil Engineering and director of Computer Center. He recently came to Australia to take part in a seminar in Monash University, Melbourne. During his stopover at Sydney, he met with some ex-BUET students and their families at Parramatta Migrant Resource Centre on the 2nd of July, 2006. During the informal meeting, he discussed the current situation of the IT Industry in Bangladesh and other issues of importance such as Private University education standards, earthquakes and flood control as well as answering various questions. It was really nice to see him face to face after such a long time and it really amazes me that he still remembers so many faces, even with right name. During my days as a student at BUET, we all knew him to be a most talented teacher. Photos...
---

---

Qaiyum Parvez is an academic of the University of Western Sydney Archives...
---
Sangeet Sandhya by Dr. Anup Ghosal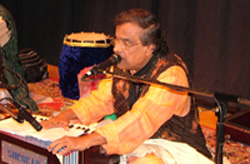 Dr. Anup Ghoshal is a renowned singer of Bengali songs in India. The Bengali Association of NSW proudly presented Anup Ghoshal on the 25th of June in the Marana Auditorium at the Hurstville Civic Theatre. This was his maiden tour to Sydney and it was an excellent performance. He presented some Rabindra Sangeet, Nazrul Geeti, Atul Proshad as well as contemporary Bangla songs, popular songs from the old days and some of his many famous playback songs from films such as Gopi Gaayn, Bagha Baayn and Hirok Rajar Deshe. Photos...
---

---

---
---

---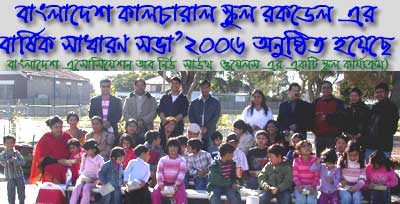 ---

Venue: Holroyd Centre, Miller St , Merrylands

Date: 17 July 2006

Time: 8.30am – 2:30pm Detail... -Sent by: Moushmi Martin
---

Poem... Short Story... Archives...
---
---

---
Details...PDF Details...Non PDF. Competion Entry Form
---

---

---

---

---
Celebrate with a Difference
Ask friends and family to help you celebrate your wedding, birthday, anniversary, or any other special occasion by making a donation to The Cancer Council instead of buying you a present. Details... -Dr. Abdul Haq
---
Lakemba Bangla School Inc.
Annual Picnic & Sports,
Date: 23rd, July 2006 (Sunday), Time: 10:00 am, Venue: Gough Whitlam Park, Cnr. of Bayview Av. & Bamboo Av. Undercliffe, NSW 2206 Detail...
---
Australian BEN members contribute towards environment movement in Bangladesh!
As part of its annual fund drive for 2006, Bangladesh Environment Network (BEN) collected $1125 from its members in Australia, BEN is a net work of non-resident Bangladeshis and their international friends committed to help Bangladesh confront her environmental problems. Details...
---
Bangladesh Community Council Inc.

Annual General Meeting (AGM)

30thof July 2006 Sunday

, Time : 12.30 pm

,Venue : Wiley Park Public School Campus

,Denman Av. Wiley Park, NSW, Details...
---

---
The Bangladesh Society for Puja and Culture (BSPC) Inc. proudly presented Mitali and Bhupinder Singh on the 10th and 11th of Jun at University of NSW's John Clancy Auditorium. Article By Abed Chaudhury Photos... Mithali and Musical sublimity

a postscript by Khairul Chowdhury
---
Ms Fiona Chowdhury (Non Bengali) looking for some decent books on Bangladeshi culture, history, economics, etc. detail...
---

---