Beedesh Bangla TVS(Ch-31)
Sunday 5:00PM, Tuesday7:30AM, Friday 3:30PM
---
Banglar Mukh TVS(Ch-31)
Saturday 2:00PM, Tuesday 4:30PM, Thursday 8:30AM
---

Sunday 2:30-4 pm, 100.9 FM.
---

Saturday 1-3:00pm, 89.7FM.
---
PoroshMoni
Tuesday 8-9pm, 100.7 FM.
---

Thursday 12-2:00pm FM 100.9
---
Sunday 2-3pm, 99.9 FM.
---

Sunday 12-2:00pm, 98.5 FM.
---
SBS Radio Bangla Program
Monday 4:00pm, 1107AM/97.7FM.
---
Sunday 4-6:00pm, 89.7FM.
---
Broadcasts weekly.
---
Broadcasts weekly
---

---
---

---
Story of a Freedom fighter
---

Venue: Holroyd Centre, Miller St , Merrylands

Date: 17 July 2006

Time: 8.30am – 2:30pm Detail... -Sent by: Moushmi Martin
---
Professor Jamilur Reza Chowdhury (JRC) , Former adviser of the Caretaker Government, Vice Chancellor of BRAC University, Ex BUET professor and Ex Director of computer center, will be in Sydney on 1st & 2nd July after attending a conference in Melbourne Monash Uni.After discussion with few ex students, an informal get-together is being organised for him on Sunday, 2nd July 2006. Details...
---

Poem... Short Story... Archives...
---
---

---
Details... Competion Entry Form
---

---

---

---

---
Celebrate with a Difference
Ask friends and family to help you celebrate your wedding, birthday, anniversary, or any other special occasion by making a donation to The Cancer Council instead of buying you a present. Details... -Dr. Abdul Haq
---
Lakemba Bangla School Inc.
Annual Picnic & Sports,
Date: 23rd, July 2006 (Sunday), Time: 10:00 am, Venue: Gough Whitlam Park, Cnr. of Bayview Av. & Bamboo Av. Undercliffe, NSW 2206 Detail...
---
Australian BEN members contribute towards environment movement in Bangladesh!
As part of its annual fund drive for 2006, Bangladesh Environment Network (BEN) collected $1125 from its members in Australia, BEN is a net work of non-resident Bangladeshis and their international friends committed to help Bangladesh confront her environmental problems. Details...
---
Bangladesh Community Council Inc.

Annual General Meeting (AGM)

30thof July 2006 Sunday

, Time : 12.30 pm

,Venue : Wiley Park Public School Campus

,Denman Av. Wiley Park, NSW, Details...
---

---
The Bangladesh Society for Puja and Culture (BSPC) Inc. proudly presented Mitali and Bhupinder Singh on the 10th and 11th of Jun at University of NSW's John Clancy Auditorium. Article By Abed Chaudhury Photos... Mithali and Musical sublimity

a postscript by Khairul Chowdhury
---
Ms Fiona Chowdhury (Non Bengali) looking for some decent books on Bangladeshi culture, history, economics, etc. detail...
---
AusBan Media presents MANUSH and CHER Cycle Natak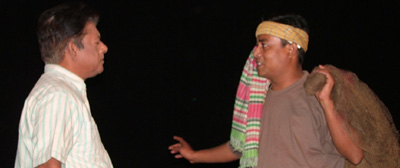 Bangla Theatre screened the nataks 'Manush' and 'Cher Cycle' at the James Meehan Auditorium, Macquarie Fields Public School, on the 4th of June 2006. Popular actors such as Mamoonur Rashid, Tushar Khan, Tomalika Karmakar, Tushar Khan, Golam Mostofa, Chanchal Chaudhury, Rubili Chaudhury, Shoinik as well as some other artists, took part in the two stage dramas. Their second stage show will be held on the 17th of June 2006, on 6:00PM at Ashfield Town Hall on Liverpool Street. This group is currently shooting a fifty-two part serial drama at Sydney and they invited many local people to take part in the shooting on Sunday, 11 June 2006, at a hidden location. Photos...
---

Qaiyum Parvez is an academic of the University of Western Sydney Archives...
---

---

Bristi Chokkhushul Archives...
---

---

---

---
---
Lakemba Bangla School Inc. AGM Completed

Dr. Abdul Wahab (President), M. Gasul Alam (Vice President), Dr. Karar Toslim (Secretary), Executive Members: Farooq Hannan, Masood Chowdhury, M. Shah Alam, Abdus Salam, A. Kalam Khan, MA Wohab Miah, Dr. Zahidul Islam, Salah Ibna Rosul, Jamil Hossain, Sikder B Rahman
---

Sent By: Tushar Roy
---

Dr. Golam Kibria is a Senior Environmental Scientist with the Australia's largest Rural Water Authority and based in Victoria
---

Match Schedule... World chart TV guide...
---