---
Ekushe Academy Australia Boi Mela-2008

Ekushe Academy Australia organised their 10th annual Boi Mela on the 24th of February, 2008 at Ashfield Park, Sydney in ideal summer weather. The mela commenced at 10:30 am and ended at 5:30 pm. The Acting High Commissioner of Bangladesh, Mr. Restadul Islam, officially inaugurated the mela in front of many distinguished guests, community leaders and local Bangladeshi community. The Bangladesh High Commission put forward a book stall for the first time, with many books regarding facts and essential information on Bangladesh. This year books were sold at a record high level. On the eve of February, Ekushe academy organised a seminar on the 1st of February, an art competition on the 15th of February and also, a blood drive for Red Cross throughout the month. During the day, there were many programs and activities, such as speeches, reception for blood donors, reception for HSC high achievers, reception for Bangla Prosar community school students, children's performances, dances, Patho Natok and performances from the musical group. The organisers are overwhelmed by their flourishing mela and are looking forward to the next mela.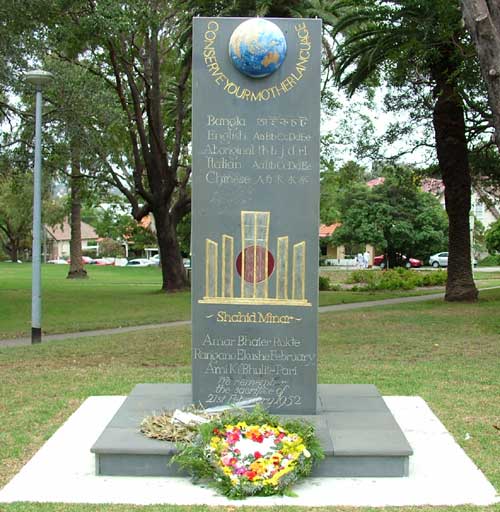 International Mother Language Day Monument at Ashfield park, Sydney, Australia.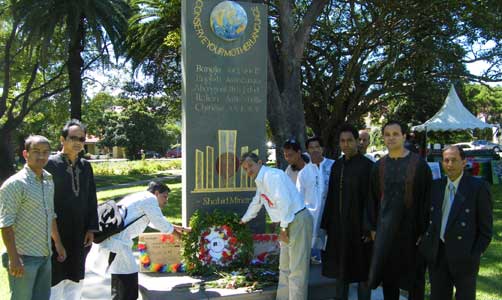 Flower wreath - by "Ekushe Academy Australia". Nehal Niamul Bari (current and founder President) & Mr. Restadul Islam (Acting High Commissioner of Bangladesh).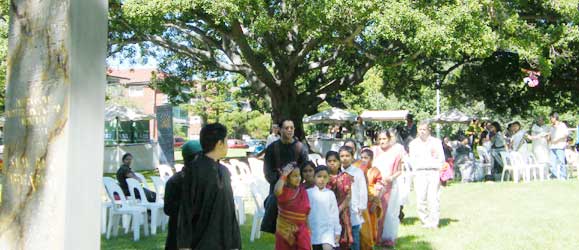 Kids of Ekushe Academy in procession.

Mr. Restadul Islam (Acting High Commissioner of Bangladesh) opening the mela.
Participants: Siam, Robi, Fahim, Amjit, Rica, Naziha, Luciba, Tafsia, Oshi, Mika, Anisha, Promi, Aditi, Aritree
| | |
| --- | --- |
| Shaheen with other hosting the children's program. | Rajon Nandi hosting the program. |
Presentation by the kids of Ekushe Academy.
---
Home
Copyright © 2003, Www.Sydneybashi-Bangla.com. All rights reserved.
Revised: 03/04/08