---
Dr. Nazrul Islam (professor of Economics at the Kyuscho National University) will give a talk on the environmental, development and economic issues and concerns in Bangladesh.
Date: 16-Jul-2005, SaturdayTime:2:45 pm
Venue: Toongabbie Anglican Church Hall, 46A Binnalong Road, Pendle Hill NSW 2145. (entrance through Burrabogee Rd),
RSVP: By 14-Jul-2005, swapanil@yahoo.com.
Bangladesh Environmental Seminar Report at Canberra...
Sent By: Kamrul Ahsan Khan
---
Thanks for ur generous contribution.

Our total collection from Australia now exceed $6500.00 and increasing

every moment now. We r trying

to double it by transferring the total amount to Microsoft office in

USA, where they have announced to DOUBLE the amount collected from

employee.

Will let everyone know once it's done. Prothom-Alo

Details...

-Nawshad
---
MONTHLY ISLAMIC EDUCATIONAL PROGRAM
Date: Sunday, 17th July 2005, Time: 12:45pm, Do'a: 1:55pm
Topic: Women, Family & Marriage, Speakers: Dr. Shah Md. Abdul Karim, Imam, Sefton Mosque.
Lunch will be provided , Please attend the program with your family & friends. -Abdul Haq
---
Activities in Darus Salam Mosque Sefton
Organized by Bangladesh Islamic centre. Details...
---
Some open letters...

---

---
Bangladesh Association of NSW Inc. Date: July 30, Time: 7:30PM
---

Date & Time: 6 August, 6:30 PM
Venue: Harvey Lowe Pavilion, Castle Hill Showground
---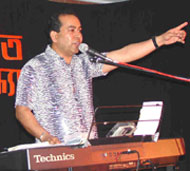 Listen a Modern Bangla Song By Al Mamoon
---

---

---


On the 20th August, 2005, the Bangabandhu Parishad Australia will remember 'Jatio Shok Dibosh'. Details...
-Dr. Qaiyum Parvez & Dr. Nurur Rahman
---
Sent by: Bangladesh High Commission, Canberra. Details...
---
Bangladesh High Commissioner Meets With Media Representatives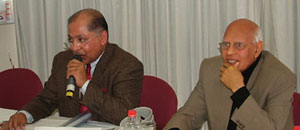 On 3rd of July 2005, Bangladesh High Commissioner invited media representatives from both Sydney and Canberra for a friendly exchange of views on promoting Bangladesh in Australia. The High Commissioner H.E. Ashraf-ud-doula, delivered a speech, to read it, click on the link at the bottom of this article. The High Commissioner then asked each media representative to give a short speech of approximately 3 minutes. A short singing function was held after the meeting. This was then followed by lunch which was served at the High Commissioner's residence. Photos... High Commissioner's Speech...
---
Your generous support and donation can save a young and brilliant student of Bangladesh. Details... Prothom-Alo
Sent By: Nawshad Shah
---
An Array of Environmental Problems Threaten Bangladesh: Contamination of drinking water; the level of arsenic is more than 500 percent of the WHO recommended safe mark for over 80 million people. Desertification of large parts of the country due to construction of dams and barrages upstream in India. Sea Level rise and the prospect of large-scale inundation. Air pollution in urban areas, periodical flooding, pollution of rivers, the destruction of forests and wetlands. Details...
Bangladesh Environmental Seminar Report at Canberra...
Sent by: Kamrul Ahsan Khan
---

Dilruba Shahana lives in Melbourne.
---
A Musical Evening by Shudha Nizhor

Shudha Nizhor presented a musical program on the 2nd of July 2005 at Homebush Boys High School Auditorium. This program included solo, chorus, dance, poetry recitation and narration performances.
---
INTERNATIONAL CRICKET, SUMMER 2005-2006, AUSTRALIA
Sent by: Helal Morshedi Details...
---
Campbelltown Bangla School Open Competition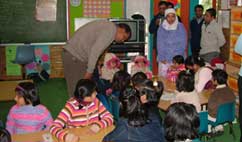 Campbelltown Bangla School Open Competition for Children was held on the 26th Jun 2005, Sunday at Ingleburn Primary School. Many kids participated in this competition where they had a chance to participate and show their pride of the occasion through art, poetry recitation and story telling.
Report Sent by: Abdul Jalil Reports... Photos..
---

New Executive Committee of Bangladesh Society for Puja and Culture Inc.-2005. Details...
Sent by: Nirmal Chakraborty
---

Sent By: Abdur Rahim Mollah Details...
---
A Musical Night With Fauzia Khan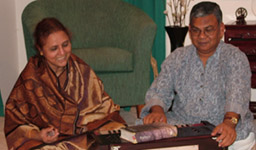 A ghorua srotar ashor was held in honour of the famous singer, Fauzia Khan, at Sirajus Salekin's residence. Many people came to the evening and enjoyed the night. After dinner, there was a music session in which Protity sang some chorus and solos. Fauzia Khan sang some famous songs from the old days. Photos...
---
HANIF SHANKET concert at Sydney Town Hall on 28th August 2005, Details will be announced soon by " The Australian Association for Bangla Institute of Culture" Details...
---

On Sunday, the 19th of June, 2005, Ekushe Academy reunion-2005 held at Summer Hill Community Centre, Ashfield. There was a discussion about the International Mother Language Monument. Lunch was served which was then followed by a cultural function.
---
Please sign the signature campaign to promote and support the initiative to bring back the honourable remains of Late Bir Shrestho Flight Lieutenant Matiur Rahman from Masroor Air Force Base in Pakistan.
The online petition is available here:

http://www.thepetitionsite.com/takeaction/191432260
www.bangladesh-association.com/Matiur
Rahman, (Bir Srestha) Matiur (1941-1971)
Sent By: Kamrul Ahsan Khan
Relevant Article By Dr. Qaiyum Parvez at Bangla-sydney.com
---
The Qantas A.R. Rahman 3rd Dimension Tour 2005-Sydney
CHARINDAA's 2005 debut event is an Australian concert tour by A.R. Rahman accompanied by celebrated singers Hariharan, Chitra, Sadhana Sargam, Shankar Mahadevan, Alka Yagnik, Blaaze, Madhushree and Kailesh Kher.
Date & Time: 17 Sep 2005, 7:00 PM
Venue: Sydney SuperDome, NSW Sydney Seating
---

Dr. Qaiyum Parvez is an academic of the University of Western Sydney.
---

Sent by: Nirmal Chakraborty
---
Mohammed A Razzaque Ph.D. is currently teaching at UNSW.
---
The First Anniversary of Muktijodha Shonghoti Parishad

On the 12th of June, 2005, the Muktijodha Shonghoti Parishad celebrated their first anniversary at Sir Joseph Banks Park at Botany. There was a discussion and a picnic in which many honourable guests were present. The President, Robin Bonik, and General Secretary, Osman Goni, thanked everyone for making this event a success. They hope to organise more events on behalf of Muktijodha Shonghoti Parishad in the future. Photos...
---

Dr. Golam Kibria, Ph.D is a Senior Environmental Scientist with the Australia's Largest Rural Water Authority and based in Victoria.
---
Abed Chaudhury is a scientist and writer who currently lives in Canberra. E-mail: abed@kanihati.com More poems
---
GRAND REUNION OF ALL EX_CADETS
An initiative has been taken to organise a grand Reunion of all Ex_Cadets from the various Cadet Colleges of Bangladesh living in NSW/ACT in Sept/Oct. 2005.
---