---
Protest Meeting and Demonstration Organised by Bangladesh Jubo and Chatro League
Reason: For the atrocious killing of S. A. M. S. Kibria.
Meet at: Homebush Station at 12:00 PM.
Venue: Will march from station to the front of the Bangladesh High Commission Office (5/9 Rochester Street, Homebush), 1:00-2:00 PM.
Al Noman Shamim
---
Bangla Teacher Wanted for Campbelltown Bangla School

Campbelltown Bangla School is seeking a paid regular Bangla Teacher. A candidate with Language teaching experience and qualification is preferred. Payment is negotiable.
If you think you enjoy teaching Bangla to children and have some spare time on Sunday, please forward your resume to the following address or email.

20 First Ave
Macquarie Fields NSW 2564
Tel: 61 2 9515 7123, Fax: 61 2 9515 7294
Mobile: 0422 344 937
Email: abdul.jalil@cs.nsw.gov.au
---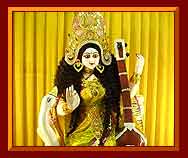 Saraswati Puja, Sydney

Bangladesh Puja Association .
Date: Feb 13, 2005, Sunday
Venu: Quakers Hill Community Centre , Cnr of Lalor Rd. and Pearce Rd. Sydney

Bangladesh Society Puja and Culture.
Date: Feb 13, 2005, Sunday
Venue: Dundas Community Centre, Sydney
---
EKUSHE ACADEMY AUSTRALIA INC
Program Details - 2005
---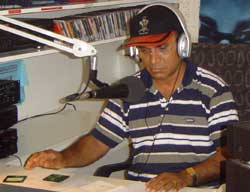 Ruposhi Bangla Betar is a very popular radio station in Sydney among the Bengali community. I recently visited the studio at Paddington and met the producer and director of Ruposhi Betar, Mr. Syed Rafiqul Haque (Sagor) and Assistant Director, Atiqur Rahman. Their program can be heard on the station 89.7 FM at 1-3:00 PM, every Saturday. This program has been broadcasting regularly for the past two years. In this program, they broadcast different Bengali and children's songs, news, dramas and interviews. Sometimes they broadcast songs sung live by various local artists from Sydney which gives listeners a different taste in music. So, stay tuned on 89.7 FM! We wish Ruposhi Betar success in years to come. Photos...
---
Campbelltown Bangla School Annual Cultural Program
Campbelltown Bangla School will hold its Annual Cultural Program on 8th May 2005, James Meehan High School Auditorium at 5.00PM, at Macquarie Fields. The program will include the performances of the Bangla School's students and the
guest artists. All are warmly invited to this program.
Campbelltown Bangla School Authority
---
Ekushe Art Competition for Children- Press Release
Traditional EKUSHE Art Competition for children organised by the Ekushe Academy Australia will be held at 6:30 pm on 11th February, Friday at Ashfield Community Service Centre (level 2 Ashfield Town Hall, Ashfield Mall Ashfield NSW 2131).
All Children are welcome to participate in the competition.
Please contact Mr Ashis Bablu on 0297310187 for further information.
 
Nirmol Paul, President, EKUSHE ACADEMY,
---
---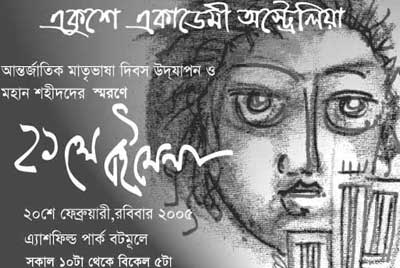 ---
Useful Website for Live Sydney Traffic Webcam
---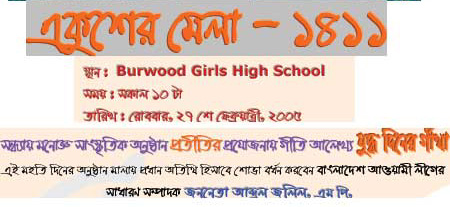 Al Noman Shamim Find out more...
---
Sent by John Martin: Find out more... Listen To Audio From Audience feedback
---

---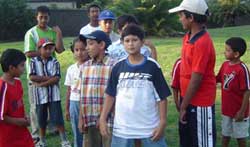 On On Saturday, 29th January 2005, the people of Holsworthy, Wattle Grove and Hammondville came together at Remount Park at Holsworthy for an annual Eid-Ul-Adha Reunion. There were some games organized for the children such as races and pass-the-parcel for the women. Though it was a small gathering, it was a very festive, happy and enjoyable environment.
Photos...
---
Tigers complete historic series double
Bangladesh completed one of the greatest fightbacks in the history of one-day cricket when they won the fifth and deciding one-day match against Zimbabwe by eight wickets at the Bangabandhu National Stadium yesterday.
01/02/2005 The Daily Star
---
Eid Reunion 2005 & HSC Student 2004 Reception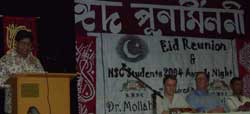 On Saturday, 29th January 2005, the Bangladesh Welfare Society Campbelltown Inc. organised an Eid Reunion and a reception for the 2004 HSC students at Ingleburn High School. The chief guests were Mayor Brenton Banfield and Councillor Steven Chaytor of the Campbelltown City Council. The chief guests handed out certificates to the HSC students and the mayor handed over the donation money for the Tsunami cause to the SriLankan representative. There was an enjoyable cultural function; participants were Khandoker Nasib Hasan (Nasim), Shabana Yeasmin (Poli), Iqbal Hasan (Rahul), H.M Habibur Rahaman, and Shajib Khan,Tanzilla Rahim conducted the program.
At the end, there was a raffle draw with various prizes donated by Sonar Bangla Enterprise Pty Ltd, Bangla Bazaar, Aussie Plus, Indian Import and all local stores in the Campbelltown area. Other sponsors were Mollah Migration services and Dhillon Real Estate.
Report sent by: Abdur Rahim Molla Photos...
01/02/2005
---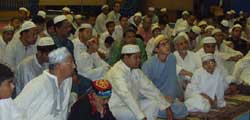 On Thursday, 20th January 2005, the Bangladesh Welfare Society Campbelltown Inc. & Islamic Forum Campbelltown jointly organised the Eid-Ul-Adha prayers at Ingleburn High School hall room. On Eid day some donations were collected for tsunami victims in Sri Lanka, Minto mosque and Bangladesh Islamic Centre.
Report Sent by: Nazmul Ahsan Khan Photos...
01/02/2005
---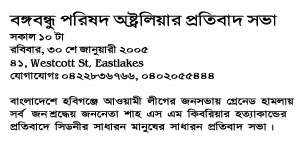 Report sent by: Shamim Al Noman
---
Tragic Death of Faheem Bhuiyan

Faheem Bhuiyan's body has been found after three days of searching on Friday afternoon, around the coast of the Gulf of Thailand. He had been on a boat trip on Tuesday, 25th January 2005, when the boat had suddenly capsized, tipping the occupants of the boat out and into the sea. The cause of the tragic accident was the fact that the owner of the boat had overloaded it, the boat carrying 50 people, when it was clearly stated on the side that it could only hold 32 passengers.
Faheem, at the age of 23, was the only son of Mr. Momen Bhuiyan of Baulkam Hills. He was a very successful student who graduated from Sydney's Macquarie University with degrees in actuary and finance. He then moved on and became a financial analyst with Proctor & Gamble in Melbourne.
Faheem's parents (Mr. And Mrs. Bhuiyan), two sisters (Sharon and Sonia) and brother-in-law Dr. S. Doullah (Topu) are currently in Thailand. They will later go back to Bangladesh, to his home village in Brahminbaria, where they will later bury Faheem there.
A Gaebi Zanaza (in the absence of his coffin) will be held for Faheem at Sefton Mosque on Sunday 30th January, 2005 after the Zohr prayer at 1:00 pm. All friends, relatives and well-wishers are invited to attend the Zanaza to pray for his departed soul.
---

---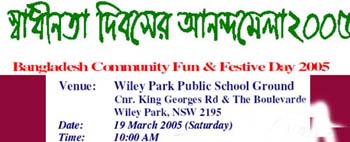 ---

On Friday 21st, there was a big gathering at Sefton Mosque where many brothers and sisters congregated for prayer on the occasion of Eid-Ul-Adha. There was much festive spirit amongst everyone. On the 20th, Eid-Ul-Adha prayers were also held at other Mosques around Sydney.
Imam of Sefton Mosque is delivering a sermon.
---
Sent by: Abdul Jalil, President, Banglaprosar Committee: Photos
---
Tigers' Maiden Test Series Scalp
Nafees hits composed century as hosts enforce draw.
Mission accomplished. Bangladesh won their first Test series when they drew the second and final match against Zimbabwe at the Bangabandhu National Stadium yesterday.
The historic result was made possible because of a magnificent century by Nafees Iqbal, who shattered Zimbabwe's hopes of squaring the series with a flawless 121 under pressure.

The Daily Star report, Sent by: Nazmul Hoque: CQU Campus, Sydney.
---
---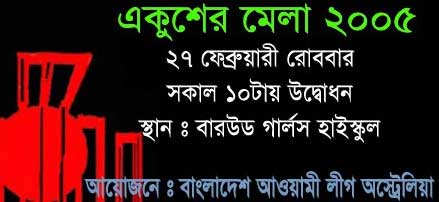 ---