---
Bangladesh Independence Day Cricket Tournament 2005

Bangladeh Welfare Society Campbelltown (BWSC) organised an Independence day cricket Tournament on Sunday, 27th of March 2005 at Sedan park Glenfield. More infos...
---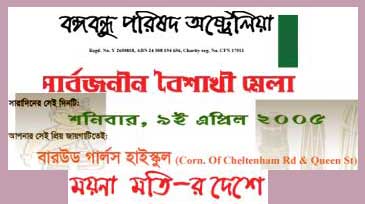 ---
Protity Celebrated the Bangla
New Year 1412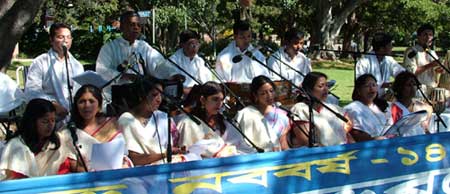 Protity has welcomed the Bangla New Year 1412, as they do every year at Ashfield Park, on the 2nd of April Saturday 2005. This time the celebration included a musical soirée by Protity members, two other cultural organisations Shuro-Dhoni and Oikotan, dances and poetry recitation. This year Protity gave the 'Sreshtho Bangalee' prize to the distinguished artist, Pundit Ashok Roy.
Photos...1 Photos...2 Photos...3 Photos...4
---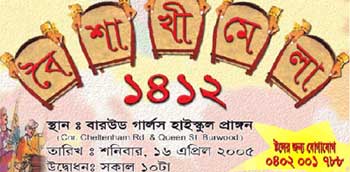 ---
First Glimpse of Bengali Interface of Windows XP and Windows Digital Media Wave
By Shakil M. Ahmed
Microsoft Corporation
GTPS (Global Technology Platform Service)
Windows OS Client-International QA
Date & time: 09 April'05, Saturday, 4:00-6:00pm (US Time)
Venue: Genus Corporation, 1139 Karlstad Dr, Sunnyvale, CA 94089
Online attendance: The event will be delivered via web conferencing from Microsoft Office Live Meeting and AABEA Seattle Chapter efforts. Please contact info@aabea.org to register and the url will be provided
---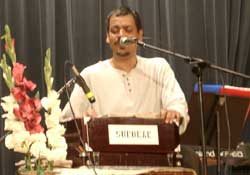 Bengali Association Of NSW
Proudly presents Srikanto Acharya. Sunday, 17 April 2005 5:30 P.M. Science Theatre University Of NSW. To reserve your Tickets Contact Ashis Bablu/Shampa Bhattacharjee: 02-97507755 (AH) 0403878395(Mob)
Tickets $20, $35, $50, $100.
---

---

---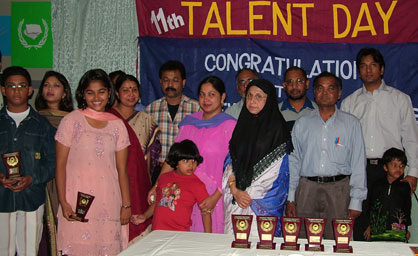 The 11th Talent Day, 2005, a ceremony to recognise all the achievements of selective school entrants and HSC graduates, was held on the 27th of February at Hassalgrove Community Center. This annual event hosted by Dr. Abdul Haq and his family has been held for the past 11 years. The Faheem Bhuiyan Memorial Award was given to the successful selective school entrants which was followed by the awarding of medals to the HSC graduates of 2004. This kind of event is very encouraging for the students and also gives them an opportunity to get to know each other. This function was well organized and nicely presented.
Photos...1 Photos..Selective Photos...HSC
---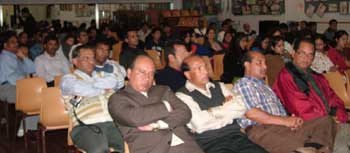 On the 26th of March, 2005, The Bengali Community in Sydney celebrated Independence and National Day at Matraville Public School's Auditorium where tributes were paid to the three million martyrs who sacrificed their lives for their nation to free themselves from Pakistan's rule. In 1971, the unarmed and helpless Bangalees flew into a rage from their strong desire to fight back the Pakistani forces who had released one of the world's worst genocides to suppress them. The country's independence was declared on the 26th March and after a bloody nine-month War of Independence: victory was achieved on the 16th December.
There were many people from the Bengali communities who gave speeches on their views on the war of Independence including Mr. Robin Bonik, Dr. Qaiyum Parvez, Mr. Nurul Azad, Mr. Osman Goni, Dr. Rafiqul Islam, Dr. Masudul Haque, Mr. Lutfor Rahman, Mr. Kaisar Ahmed, Mr. Al Noman Shamim, Mr. Kamrul Hassan Nilu, Mr. Nirmul Paul, Bilkis Zahan, Mr. Aman Ullah Aman and a few others. At the end there was a cultural function.
---
Ekushe Academy Australia Participated In Multicultural Programs
The Clean Up Australian Day & The International Women's Day Activities
---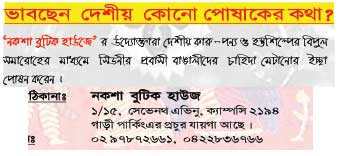 ---
BANGLADESH COMMUNITY COUNCIL INC, INDEPENDENCE-DAY ANANDO MELA-2005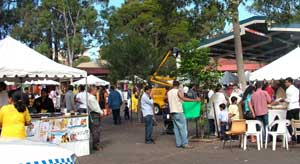 Bangladesh Community Council Inc. organised Independence-Day Anando Mela-2005 last Saturday 12-March-2005 at the Wiley Park High School, Sydney. There were many book, food, clothing stalls, pony rides and jumping castles for the children outdoors and a cultural function indoors
---
---

---
A Noble Deed Done by Probasy for a Worthy Cause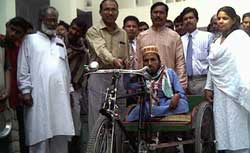 These pictures are of Mohram, a twenty year old man who lives in Jharshinhershon Gram, Purbochatnai Upozela, Dimla Union, Nilfamari Jela, Bangladesh. He was born with a disability that is with short legs and arms. He is training to become a hafeez. He is very poor and to survive he tutors young children around his area, he teaches them how to read the Quran. To get to his students he has to take a bike ride, usually he asks someone on the streets to give him a ride. However, he had to pay for the rides. By the end of each month, minus all his expenses he would only have 30 taka left.
In October 2004, when Bangladesh was hit by devastating floods, Probasy decided to raise money for the flood affected by selling Cadbury chocolates. When Kushbu and his dad (Abdul Aziz) went to Nilfamari they discovered this man and decided to make him a customised bike which he could ride and save money. So along with the cows, vans, etc. that they gave to the flood affected, they also left some money back home for his bike. And Prothom Alo have sent them these pictures. Probasy encourages others to do activities such as this one.
Well Done Probasy!!!
Kushbu: 1st year University Student
Contact: 02-96187725 Photos...
---
Music Class at Campbelltown Bangla School
Campbelltown Bangla School will commence Singing Class. Anyone that is interested in joining and learning are invited to participate at weekly classes.
Venue: Grange Public School
8 Binham road, Minto
Day & Time: Sunday, 09:00-10:00
Contact: Nazmul Ahsan Khan, 02-98297478
---
[Conversation Forum - Parenting Issues]
Report sent by: Sadeq Zaman Find out more...
---
Campbelltown Bangla School Annual Cultural Program
Campbelltown Bangla School will hold its Annual Cultural Program on 8th May 2005, James Meehan High School Auditorium at 5.00PM, at Macquarie Fields. The program will include the performances of the Bangla School's students and the
guest artists. All are warmly invited to this program.
Campbelltown Bangla School Authority
---