---
Music Class at Campbelltown Bangla School
Campbelltown Bangla School will commence Singing Class. Anyone that is interested in joining and learning are invited to participate at weekly classes.
Venue: Grange Public School
8 Binham road, Minto
Day & Time: Sunday, 09:00-10:00
Contact: Nazmul Ahsan Khan, 02-98297478
---
Where Elbows do the Talking
An Article By: Shahidul Alam, Dhaka
Shahidul Alam is a Bangladeshi photographer and writer.
---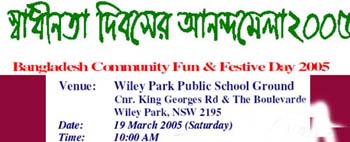 ---
Ekushe Mela by Bangladesh Awami League, Bangabandhu Parisad Australia -2005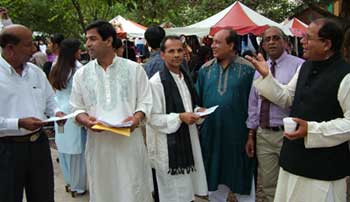 Bangabandhu Parisad Australia, Bangladesh Awami League Australia Celebrated 21st February Ekushe Mela-2005 last Sunday 27-Feb-2005 at the Burwood Girls High School, Sydney. There were many book, food, clothing stalls, both outdoor and indoor cultural function and ekushe discussions . The program was opened by Dr. Abdur Razzaque MP, Secretary - Agriculture and cooperative of Bangladesh Awami League.
---
Australian state to include Bangla as second language
UNB, Dhaka
Find out more... The Daily Star.
Al Noman Shamim
---
New Rabindra Sangeet CD By:
Dr. Monjur Hamid & Nasrin Hamid

---
EKUSHE ACADEMY AUSTRALIA INC.
Gratitude and Australia Day Clean up Appeal
Find out more... Clean Up Appeal Gratitude
---

---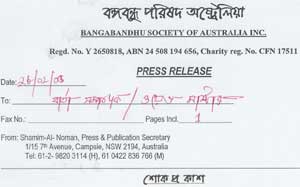 ---

---
The Passing Away of the Famous Singer, Lyricist, Composer and Language Movement Activist, Abdul Latif
Abdul Latif passed away (inna lilla... rajeun) on Saturday, 26th of February at 2:00 pm, Sydney Time at the age of 82. We pray for his departed soul.
Abdul Latif father of Rabindra Sangeet shilpi Sirajus Salekin, was born in 1927 in Barishal District. He learnt music from many noted musicians from India and Bangladesh since he left school. He went to Kolkata to learn Hindustani Classical music in 1944. He took part in World War II where he was sent to Burma and came back to Dhaka after 1947.
Abdul Latif joined Radio Pakistan as a performer in 1948 and gradually became a music director. He worked for Radio Bangladesh till 1974 and later he became the Deputy Director of Mass Communications Department under Ministry of Information and Broadcasting. He retired from this job in 1989 and he has been involved in teaching music since 1948.
Abdul Latif is a renowned performer, lyricist and composer of Bangladesh. He has composed many folk, modern and patriotic songs which are still very popular. His songs inspired the nation during our language movement in 1952 and liberation war in 1971. He received 'Ekushe Padak' and 'Shadhinata Padak' – the highest civilian awards for his overall contribution in the cultural field. He also received other awards for his contribution in the musical arena.
---

Saturday School of Community Language (SSCL) will commence running Bangla course from 1st term of 2006 for year 7 - 10 students at Dulwich Hill centre of NSW.
---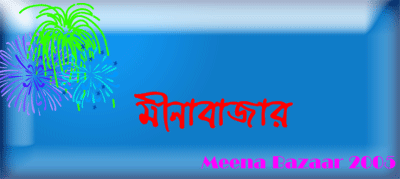 ---
---
Ekushe Academy 21st February Celebration, 2005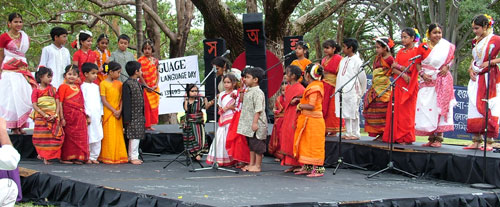 Ekushe Academy Celebrated 21st February at Ashfield Park, Sydney. There were many book and food stalls. The program was opened by the Bangladesh High Commissioner, Ashraf-Ud-Doula. The program included the presentation of various cultural organisations, ekushe discussions, a book fair, prize distributions and a raffle draw.
Photos - 1 Photos - 2 Photos - 3
---

Kolorol will present annual cultural competition Saturday 1st October, 2005 details will be announced soon.
Dr. Monjur Hamid & Nasrin Hamid
---
Werriwa By-election Labour candidate, Chris Harris will meet with local community.
Venue: Minto Mosque, Minto
Date & Time: March 5, 2005, 11:00 AM
Abdur Rahim Mollah
---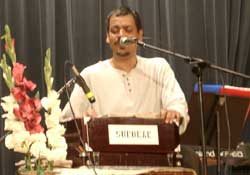 Bengali Association Of NSW
Proudly presents Srikanto Acharya. Sunday, 17 April 2005 5:30 P.M. Science Theatre University Of NSW. To reserve your Tickets Contact Ashis Bablu/Shampa Bhattacharjee: 02-97507755 (AH) 0403878395(Mob)
Tickets $20, $35, $50, $100.
---
Sent by John Martin: Find out more... Listen To Audio From Audience feedback
---
---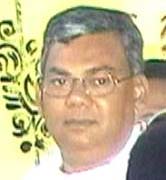 Rabindra Sangeet By: Sirajus Salekin

---
[Conversation Forum - Parenting Issues]
Report sent by: Sadeq Zaman Find out more...
---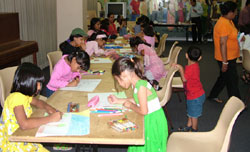 Ekushe Art Competition for Children
The Ekushe Art Competition was held on the 11th February, Friday at Ashfield Community Service Centre. Many kids participated in this competition where they had a chance to display their wonderful talents in art.
---
Protest Meeting and Demonstration Organised by Bangladesh Jubo and Chatro League in front of the Bangladesh High Commission in Sydney.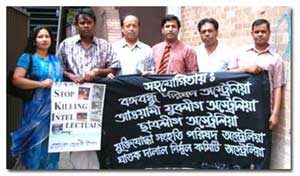 ---

The first pictures of the undersea site of the earthquake that caused the Asian tsunami have been released. More...
---
Bangla Teacher Wanted for Campbelltown Bangla School

Campbelltown Bangla School is seeking a paid regular Bangla Teacher. A candidate with Language teaching experience and qualification is preferred. Payment is negotiable.
If you think you enjoy teaching Bangla to children and have some spare time on Sunday, please forward your resume to the following address or email.

20 First Ave
Macquarie Fields NSW 2564
Tel: 61 2 9515 7123, Fax: 61 2 9515 7294
Mobile: 0422 344 937
Email: abdul.jalil@cs.nsw.gov.au
---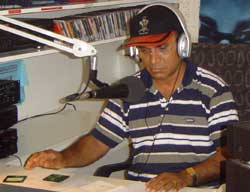 Ruposhi Bangla Betar is a very popular radio station in Sydney among the Bengali community. I recently visited the studio at Paddington and met the producer and director of Ruposhi Betar, Mr. Syed Rafiqul Haque (Sagor) and Assistant Director, Atiqur Rahman. Their program can be heard on the station 89.7 FM at 1-3:00 PM, every Saturday. This program has been broadcasting regularly for the past two years. In this program, they broadcast different Bengali and children's songs, news, dramas and interviews. Sometimes they broadcast songs sung live by various local artists from Sydney which gives listeners a different taste in music. So, stay tuned on 89.7 FM! We wish Ruposhi Betar success in years to come. Photos...
---
Campbelltown Bangla School Annual Cultural Program
Campbelltown Bangla School will hold its Annual Cultural Program on 8th May 2005, James Meehan High School Auditorium at 5.00PM, at Macquarie Fields. The program will include the performances of the Bangla School's students and the
guest artists. All are warmly invited to this program.
Campbelltown Bangla School Authority
---
Useful Website for Live Sydney Traffic Webcam
---