Beedesh Bangla TVS(Ch-31)
Sunday 5:00PM, Tuesday7:30AM, Friday 3:30PM
---
Banglar Mukh TVS(Ch-31)
Saturday 2:00PM, Tuesday 4:30PM, Thursday 8:30AM
---

Sunday 2:30-4 pm, 100.9 FM.
---

Sunday 8-10:00pm, 89.7FM.
---
PoroshMoni
Tuesday 8-9pm, 100.7 FM.
---

Thursday 12-2:00pm FM 100.9
---
Sunday 2-3pm, 99.9 FM.
---
Sunday 12-2:00pm, 98.5 FM.
---
SBS Radio Bangla Program
Monday 4:00pm, 1107AM/97.7FM.
---
Sunday 4-6:00pm, 89.7FM.
---
Broadcasts weekly.
---
Broadcasts weekly
---

---
---

---
Story of a Freedom fighter
---
Bangladesh Vs India Live TV (Cricket)
-Nawshad Shah
---

---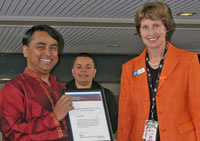 Farhad Reza awarded by Harmony Day RAPS Awards Harmony Day RAPS Awards : Farhad Reza from Community Strategies Branch was recognised for his outstanding contribution to the development of multicultural policy on the social integration of Australian communities to support FaCSIA's ongoing commitment to' improving the lives of Australians' with a particular focus on the Muslim Community. Details...
---

---

---

---

Date: 20th May Time: 5:00PM, Venue: Sydney Town Hall
---

---
146th Birth Anniversary of Rabindranath Tagore

On the 25th of April 2007, Sur-O-Dhwani Music School presented a musical program on the 146th birth anniversary of the poet, Rabindranath Tagore, at the St. Albans church hall in Epping. The program commenced with a welcome address, followed by a narration on Rabindranath. There were then presentations by Sur-O-Dhwani and guest artists Sakiba Rahman Mitul, Sirajus Salekin, Sandeep and Suma Ray. The invited artists Sri Durbadal Chatterjee, Rahul Kumar Chattopadhyay and Farid Uddin, made an instrumental presentation. Photos...
---

---

---
---
www.nazrul.org is an exclusive website in the cyber world with an abundance of information about the poet, Kazi Nazrul Islam. This site was made to commemorate this extraordinary and historical poet in our contemporary world. One can find almost everything about Nazrul in this website from the life of this poet, starting from his childhood to the end of his life, as well as information and insights about his works. Dr. Omar Farooq, Professor of Economics and Finance at Upper Iowa University, USA, has created this outstanding website with remarkable talent and is still continuing working on it. Well done Mr. Farooq, we are very much proud of your work. The main features of this site include Nazrul in other languages, a Nazrul forum, networking Nazrul experts, researchers, singers, and enthusiasts from around the world as well as Nazrul Geeti artists' photos along with audio collections of more than a hundred singers'.
---
Sent By: Helal Morshedi
---
Good Morning at Glenfield Raised $1,365

Good Morning Bangladesh was organised by the local community to raise money, for research, for the Cancer Council of Australia. This year they raised $1365. There will another breakfast at Blacktown on the 6th of May 2007 at Village Green( 9.30am-12:00). Please come and extend a helping hand for such a great cause. Amount of money raised in the past years by the Bangladeshi community: Year 2006-$6193.90, Year 2005-$3200.00, Year 2004-$2190.00, Year 2003-$1335.00, Year 2002-$1257.60 and Year 2001-$900.00. Photos...
---

On the 21st of April 2007, Bangabandhu Parishad (K-R) organised a Baishaki Mela at the Royal Randwick Race course garden. This is the first time the Baishaki mela has been celebrated at this venue. There mela ground was decorated with various stalls containing food, clothing and many other items. There was a jumping castle for the small kids to provide them with entertainment. The day long cultural program included childrens' performances, poetry recitals, a mini drama and performances by a band, local artists and Pantho Kani, who came from Bangladesh. Photos...
---

---

---
---

Bangladesh Association of Australia celebrated the Bengali New Year Eve by cruising on a ferry along Sydney's harbour. They started the cruise at 4:00 pm at Rose Bay which lasted almost four hours. During the cruise people enjoyed their time as they wished, with snacks and dinner also being served. At the end there were prize distributions, a raffle draw, some jokes, recitations and singing. All the participants had a great time. The organisers would like to continue this event in the coming years. Photos...
---
Boishak at Tempe
At a new venue, Bangabandhu Parishad (Rafiq) organised a Boishaki Mela on the 14th of April 2007 on the very day of the Bangla New Year at Robyn Webster Sports Centre, Tempe. There was a huge turnout at the mela and everyone enjoyed the day in an atmosphere of perfect autumn weather. There were many presentations in the program such as children's performances, poetry recitals, performances by a band and some local artists. The organisers are very happy with their success with the mela. Photos...
---

---
Feats of a Bangladeshi scientist
(BUET Graduate) Details...
---
Beedesh Bangla-TVS, Ch-31, will broadcast a special program on the Saturday School of Community Language (SSCL) about the teaching of the Bangla language and on the Baishaki-mela-1414. The program will be aired on Sunday 5:00PM, Tuesday 8:00AM & Friday 3:30PM. -Rahmat Ullah
---
Protity Celebrates Pahela Baishak-1414

Sydney-based cultural organisation Protity celebrated Pahela Baishak, 1414 on the 14th of April 2007 at Ashfield Park as they have been annually for the past few years. Protity welcomed the first day of the Bengali new year of 1414 to uphold the Bengali culture and tradition abroad. The day's program consisted of chorus and solo songs, sung by members of Protity, and of poems recited by various people. Protity also presented a crest to Probasy, a charity organisation, for their active involvement in raising funds for acid victims in Bangladesh. Photos...
---

---

---

---

---

---
---