Beedesh Bangla TVS(Ch-31)
Sunday 5:00PM, Tuesday7:30AM, Friday 3:30PM
---
Banglar Mukh TVS(Ch-31)
Saturday 2:00PM, Tuesday 4:30PM, Thursday 8:30AM
---

Sunday 2:30-4 pm, 100.9 FM.
---

Sunday 8-10:00pm, 89.7FM.
---
PoroshMoni
Tuesday 8-9pm, 100.7 FM.
---

Thursday 12-2:00pm FM 100.9
---
Sunday 2-3pm, 99.9 FM.
---
Sunday 12-2:00pm, 98.5 FM.
---
SBS Radio Bangla Program
Monday 4:00pm, 1107AM/97.7FM.
---
Sunday 4-6:00pm, 89.7FM.
---
Broadcasts weekly.
---
Saturday 4-5:00pm, 87.6FM.
---
Broadcasts weekly
---

---
---

---
Story of a Freedom fighter
---

---
Two More Special Prayers for the late Abdur Rahim Mollah.
1st: Macquarie Fields Community Centre, 5 Field Street, after Magreb, Saturday 7 July.
2nd: Lakemba Mosque, Prayer & Janaja after Magreb, Sunday 8 July. Nazmul Ahsan Khan: 9829 7478 Nazrul Islam: 0419 283 657
---
Bangladesh Australia Disaster Relief Committee Notice for Annual General Meeting (AGM)
Date: 29/07/2007 (Sunday), Time: 11 AM to 1 PM Details...
---

---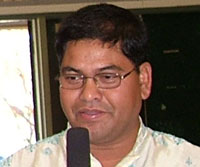 Abdur Rahim Mollah died (Innalilla….) on the 4th of July, at 4:45 pm, in Ingleburn (from either a heart attack/stroke – the real cause is yet to be known). A passer-by saw him fall on the street while he was jogging. An ambulance was called, but he was declared dead on the way to Liverpool Hospital. Mr. Mollah is well known by all the Bangladeshi community for his dedicated community work. Please pray for the departed soul. He is currently at Liverpool Hospital. His namaje janaja will be held at Minto Mosque, 48 Westmoreland Street, after juma prayer. Contact: Nazmul Ahsan Khan: 9829 7478 Nazrul Islam: 0419 283 657
---

---

---

---
Bangladesh at Asia on Show at Sydney

Bangladesh, including another ten Asians countries: Brunei, China, India, Myanmar, Malaysia, Pakistan, Nepal, Sri Lanka, Singapore and Vietnam; took part at Sydney Trade Fair from May 17 to 20. More & Photos... Archives...
---

---

--------------

-Kamrul Ahsan
---

---
---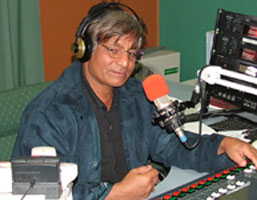 Betar Bangla is the oldest radio station in Sydney among the Bengali community. It was my great pleasure to visit the station and meet the producer and director of Bangla Betar, Mr. Harun Rashid Azad. more & Photos...
---

---

---

---

---

---

---

---

---
Every Saturday 4-5:00pm, 87.6FM.
---
Good Morning at Glenfield & Blacktown. Good Morning Bangladesh was organised by the local community to raise money, for research, for the Cancer Council of Australia. They raised a total of $3885 from Blacktown program and $1365 from Glenfield program. Total money raised in 2007 stand at $5250. Photo...
---

Bangladesh Society for Puja and Culture Inc. celebrated the "Rabindra-Nazrul-Sukanto" Jayanti & annual debate competition on Sunday, May 6, 2007 at Matraville Public School Auditorium. The children took part in the public speaking and debate competition, with the night ending with performances of Rabindranath, Nazrul and Shukanto's songs, dance and poetry. BSPC has been organising this event for the past few years regularly. Photos...
---
Ekushe Academy Reunion-2007

Ekushe Academy Australia Reunion-2007, was held on the 6th of May at Burwood Community Centre. Ekushe Academy holds this reunion each year after the Ekushe Boi Mela to get feedback and opinions about the mela. This was an open discussion about the Boi Mela and overall Ekushe academy activities, followed by a cultural function at the end. Ekushe Academy has decided to celebrate more events through out the year from now on. Photos...
---

Mohammed A Razzaque Ph.D. is currently teaching at UNSW.
---

SHUROLOK Music Appreciation and Performance Group of Melbourne staged its inaugural program "ALOKER JHORNADHARA" coinciding Bangla Nobo Borsho and Robindro Jonmodin on 28 April evening at the Karralyka Theatre. This program was dedicated in memory of Wahidul Haq. Report Details & Photos...
---
www.nazrul.org is an exclusive website in the cyber world with an abundance of information about the poet, Kazi Nazrul Islam. This site was made to commemorate this extraordinary and historical poet in our contemporary world. One can find almost everything about Nazrul in this website from the life of this poet, starting from his childhood to the end of his life, as well as information and insights about his works. Dr. Omar Farooq, Professor of Economics and Finance at Upper Iowa University, USA, has created this outstanding website with remarkable talent and is still continuing working on it. Well done Mr. Farooq, we are very much proud of your work. The main features of this site include Nazrul in other languages, a Nazrul forum, networking Nazrul experts, researchers, singers, and enthusiasts from around the world as well as Nazrul Geeti artists' photos along with audio collections of more than a hundred singers'.
---

---
Kid's Corner