---

Sent By: Ziaul Hoque Bablu
---

Sent By: Ziaul Hoque Bablu
---

Mohammed Fahimul Islam, 2nd Secretary, Bangladesh High Commission
---
Launching of Amia Matin's 5th CD in Sydney,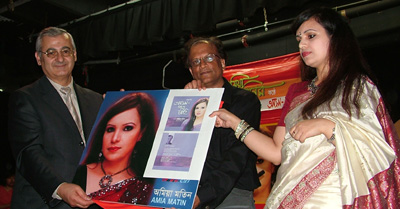 Nazrul Geeti shilpi Amia Matin launched her 5th CD, Asha-Patho Chahi, on the 9th of December at the Francis Greenway Center, Liverpool. This CD comprises of Nazrul's famous songs, arranged by an Indian musician named Kiran Pradhan. Many guests and well-wishers attended this function. In the first half, speeches were given and the CD was launched by Mr. Anthony Khouri, Honorary Consulate-General of the People's Republic of Bangladesh, followed by songs sung by Amia from her new CD. In the second half, Amia sang songs from the old days, some songs of Nazrul, some of Abu Hena Mostofa Kamal as well as some songs which were requested by the audience. Kiran Pradhan accompanied Amia on the guitar as did Dipankar Rajbongshi on the keyboard and Rashedul Kabir on the tabla. Throughout the function, four dances were performed by Francillia, Aritree, Afrida and Maheema. The function started at 6:30 pm, with a 20 minute interval, finally ending at 10:15 pm. AALO-charity organisation sold dinner to raise funds to help the Bangladeshi poor and meritorious students. Photos... Some press
---
---
Bangladesh Welfare Society Campbelltown Inc. has organized qurbani 2007
---
BANGLADESH ISLAMIC CENTRE(BIC) NSW INC. has organized Qurbani 2007. Details...
---

---

---
Krishibid Dr. Doza Passed away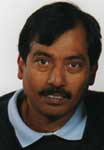 He died Friday evening December 8th, after a massive heart attack.This was a tragic death. Doza Bhai worked full day. He left a daughter Nazia (just completed her HSC), son Nahian (in year VI and already got selection for selective School in Sydney), wife Sultana Razia and mother in Jessore.Namaj-e-janaja was held at Lakemba Big Mosque (Wangee Rd) followed by Magreb namaj on December 10th. His body was placed in final rest in the 'Rockwood' gorosttan at Sydney on Monday 11th Dec 2006.. -Ziaul Hoque Bablu, M. 0411031942 Details...
---
---
---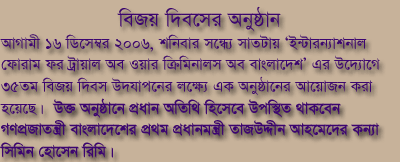 Venue: Parramatta MRC Details...
---

On 10th December, Sunday 2006 First Bridge competition (auction) has been held at Gold Coast. On this Competition lots of Fun has been happened. This is first time open and organised competition with in Bangladeshi Bengali community at Gold Coast. On this competition, Sanjib-Tapan team earned 1st place, Babul & Iqbal team are 2nd place and Sanaul and Usof team earned 3rd place. This competition was open on 31st October and co-ordinator of this Competition was Sanjib Bhowmick. The prizes will be given to winners on 17th December at Bangladesh Victory day Utsob 2006. Contact: Mr. Sanjib Bhowmick, Phone: (07) 5532 0206 (H), 0432 088 916(M).
---

---
---
---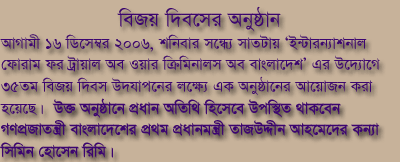 Venue: Parramatta MRC Details...
---
---

Scroll down to page 5
---

---

Mohammed Fahimul Islam, 2nd Secretary, Bangladesh High Commission
---
---

Page-1 and Page-16 collect your copy from any Bangladeshi shops
---
BUET-87 Alumni Met at Bicentennial Park

On the 25th of November, the graduates of BUET-87 met up for the first time after nearly 20 years when a few of the members took the initiative to organize this event. This was a very emotional reunion for the former students and during the get-together, the students shared many fond memories and also talked about their life at present. The members have decided to now meet regularly at every quarter of a year. The members have also decided to host a 20 year jubilee next year in Australia where other BUET-87 students from around the world will come and meet up here. I was very proud to be present at this gathering and was very happy to meet up with my friends after such a long time. Photos...
---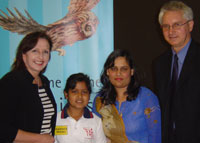 Congratulations Sharmistha, Daughter of Nilima and Sanjib Mohajan (Pintu) from St. Marys, Sharmishta has been selected for OC placement 2007 at Kingswood P/S. She studied at the Our Lady of the Rosary Catholic School at St. Marys and this year at Claremont meadows Public School. She received lots of trophies and certificates for her outstanding academic achievements and local Society activities. She shows extraordinary skills in Science & music and received a state finalist medal from Premier Bee spelling competition 2006 at ABC radio and Television broadcasting center. She loves reading, music, sports, spelling & new word search. Photos...
---

---
Bangabandhu Society Australia observed the "Jail Hotta Dibosh-2006" on the 26th of December 2006 at Matraville Public School Auditorium. Professor A.K Azad, advisor of the central committee of Awame League, came from Bangladesh. There were many speakers who gave speeches about the current situations of Bangladesh. Professor Azad gave his valuable speech about the current political situation of Bangladesh and also about how badly the four intellectuals had been killed. Bangabandhu Award-2006 gave to Dr. Azad. The program was divided in two parts where in the first half there was a discussion and in the second half there was a cultural function. The following day there was a reception party at Ryde Photos...
---

---

Report and Photos Send By Abdul Jalil
---
---

---
---
Chairman of Islamic Shashontantrik Andolon and Pir of Charmonai Alhaj Maulana Syed Mohammad Fazlul Karim has passed away last Saturday, 25th Nov 2006 at 9:40am at his resident Charmoni, Barisal, Inna lillahi...I express my deep grief and pray for his magferah. For details www.ittefaq.com -Abdur Rahman Sikdar
---

Qaiyum Parvez is an academic of the University of Western Sydney
---

---