Beedesh Bangla TVS(Ch-31)
Sunday 5:00PM, Tuesday7:30AM, Friday 3:30PM
---
Banglar Mukh TVS(Ch-31)
Saturday 2:00PM, Tuesday 4:30PM, Thursday 8:30AM
---

Sunday 2:30-4 pm, 100.9 FM.
---

Saturday 1-3:00pm, 89.7FM.
---
PoroshMoni
Tuesday 8-9pm, 100.7 FM.
---

Thursday 12-2:00pm FM 100.9
---
Sunday 2-3pm, 99.9 FM.
---

Sunday 12-2:00pm, 98.5 FM.
---
SBS Radio Bangla Program
Monday 4:00pm, 1107AM/97.7FM.
---
Sunday 4-6:00pm, 89.7FM.
---
Broadcasts weekly.
---
Broadcasts weekly
---

---
---

---
Story of a Freedom fighter
---

---

Scroll down to page 5
---

---
---

---
---

Page-1 and Page-16 collect your copy from any Bangladeshi shops
---
BUET-87 Alumni Met at Bicentennial Park

On the 25th of November, the graduates of BUET-87 met up for the first time after nearly 20 years when a few of the members took the initiative to organize this event. This was a very emotional reunion for the former students and during the get-together, the students shared many fond memories and also talked about their life at present. The members have decided to now meet regularly at every quarter of a year. The members have also decided to host a 20 year jubilee next year in Australia where other BUET-87 students from around the world will come and meet up here. I was very proud to be present at this gathering and was very happy to meet up with my friends after such a long time. Photos...
---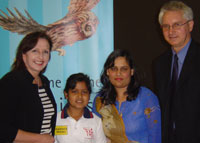 Congratulations Sharmistha, Daughter of Nilima and Sanjib Mohajan (Pintu) from St. Marys, Sharmishta has been selected for OC placement 2007 at Kingswood P/S. She studied at the Our Lady of the Rosary Catholic School at St. Marys and this year at Claremont meadows Public School. She received lots of trophies and certificates for her outstanding academic achievements and local Society activities. She shows extraordinary skills in Science & music and received a state finalist medal from Premier Bee spelling competition 2006 at ABC radio and Television broadcasting center. She loves reading, music, sports, spelling & new word search. Photos...
---

---
Bangabandhu Society Australia observed the "Jail Hotta Dibosh-2006" on the 26th of December 2006 at Matraville Public School Auditorium. Professor A.K Azad, advisor of the central committee of Awame League, came from Bangladesh. There were many speakers who gave speeches about the current situations of Bangladesh. Professor Azad gave his valuable speech about the current political situation of Bangladesh and also about how badly the four intellectuals had been killed. Bangabandhu Award-2006 gave to Dr. Azad. The program was divided in two parts where in the first half there was a discussion and in the second half there was a cultural function. The following day there was a reception party at Ryde Photos...
---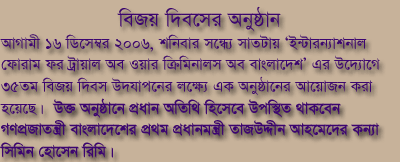 Venue: Parramatta MRC Details...
---

---

Report and Photos Send By Abdul Jalil
---
---

---
---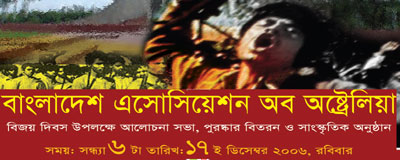 ---
Chairman of Islamic Shashontantrik Andolon and Pir of Charmonai Alhaj Maulana Syed Mohammad Fazlul Karim has passed away last Saturday, 25th Nov 2006 at 9:40am at his resident Charmoni, Barisal, Inna lillahi...I express my deep grief and pray for his magferah. For details www.ittefaq.com -Abdur Rahman Sikdar
---


SMG Internation Pty. organised a literature evening with prominent writer Suchitra. This was a different evening compared to any other conventional cultural evening. The writer spoke about many things including about her own experiences and also replied to many complex questions asked by the viewers. It was a very entertaining evening and the organisers should be proud. Photos...
---
Musical Evening to raise fund for Noiritry-Protity

Protity arranged a special musical evening, to raise some money for Noiritry on the 10th of November at Quakers Hill community centre, and raised $1,800.00 dollars. Sirajus Salekin, founder of Protity, will give a hand to Noiritry's family to raise the $2,000.00 required for his medical expenses. In the program, Colin Bariman played the sarood and after the interval, Sirajus Salekin sang some Rabindra sangeet and songs of the old days. This was a worthwhile evening for a worthy cause. photos...
---
---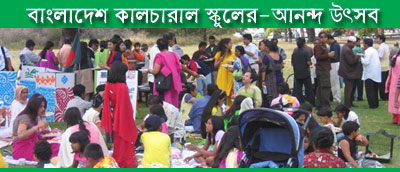 ---

Qaiyum Parvez is an academic of the University of Western Sydney
---

---
AALO INC. AUSTRALIA, On behalf of AALO INC., I express my gratitude to all guests who have attended last Sunday Night AALO-2006 fundraising Dinner and Cultural Evening at Glenfield Community Hall, I would like to thanks to all donors and volunteers for their hard work to made this event so successful. I also would like to thanks to all singers and performers for their cordial cooperation, help and donation. We will publish our future activities and updates through websites. -Abdur Rahman Sikder (http://www.aalo.net/)
---

---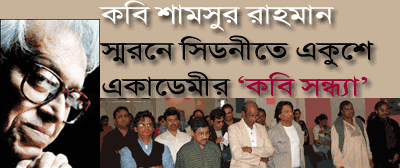 ---